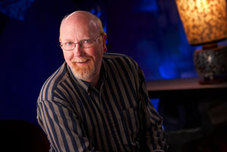 Hi! My name is Ed Caple, the founder and President of Classic Christian Hits Radio.
This station is designed to do three things – Entertain, Encourage, and Edify! Entertain – to get you to want to come back and listen again! Encourage – to help you get through the day-to-day of this life! Finally, Edify – to build you up and strengthen your walk with God, through both the songs played as well as some short, thought-provoking programs!
Personally, I started listening to "Jesus Music" (as it was known back then) while I was in high school way back in the BC days. (You know – Before Computers!) I started working in Christian radio while I was in college and it became a lifetime passion. The crazy thing is, a lot of these "classics" – I played on the air when they were brand new! (I suddenly feel old!) Back in the 1970's, though, most Christian radio stations were teaching and talk focused. Since there weren't very many "hits" on the radio in the 70's, I've gone through my library and pulled what I think are the best songs from that time period.
Over time, stations started to change and music radio with the new Christian music became more prevalent. Of course, with the amount of new music coming out, there was only so much time available, and some favorites faded away, only to be fond memories for a lot of us.
Unfortunately, my time in terrestrial Christian radio came to an end in 2010, but in 2012, God gave me the vision for this station. With the help of some friends, it's became a reality in late 2013! Thank you God, and to those who gave financially or their time to help get this started!
Hopefully, as you listen to the oldies here, you'll be reminded of times past where you KNEW God was at work in your life – and it will encourage you! Drop me a line and let me know your thoughts, or if there's someone we're not playing that you'd like to hear, email me at ed@classicchristianhitsradio.com I'll do my best to find it and add it! Enjoy!